About us
Szlachecka rodzina Plewako z Województwa Mińskiego Wlk. Ks. Litewskiego
Plewako noble clan from Minsk Voievodship of Grand Duchy of Lithuania

Najbliższy Wspólny Przodek (NWP) - Most Recent Common Ancestor (MRCA): Paweł Plewako urodzony/born ~1616 zmarł/died ~1680.
He is 5-th generation from Jaroslaw, founder of Plewako clan (~1485-1528/)
Relationship between members of the clan participating in this Project are shown here: http://www.plewako.pl/Y-DNA/Plewako_Y-DNA_Projekt.htm

DYF399X advanced STR marker analysis

An Advanced STR marker DYF399X for few person belonging to I2a1b3a haplogroup (L621+ L147+) has been determined. It is an asymmetric three allele STR locus that can be used to observe deletions and recombinational rearrangements in the palindromic region of the Y chromosome. This marker is valuable in few hundred years genealogy. In I2a1b2a1a2a S17250 Y4882 subclade for Plewako clan and few matching persons we have obtained a specific patern of DYF399X: 21t-22c-23c
It is defined internal branch of
I2a1b2a1a2a
DYF399X 131251 21t-22c-23c 2011-03-22 Plewako Stanislaw J. I2a1b2a1a2a S17250 Y4882 (Plewako DNA Project, WTY & BigY)
DYF399X 156366 21t-22c-23c 2012-04-05 Plewako Damian I2a1b2a1a2a S17250 Y4882 (Plewako DNA Project, BigY)
DYF399X 316213 21t-22c-23c 2014-08-29 Linnichenko I2a1b2a1a2a S17250 Y4882 (Plewako DNA Project)
DYF399X 152857 21t-22c-23c 2012-07-07 Feklistov I2a1b2a1a2a S17250 Y4882 (Russian Empire Project)
Both results of Plewako Clan members, (see https://www.familytreedna.com/groups/balticsea/about/results ) Stanislaw-Jan & Damian, are identical. This result must be identical to MRCA both of us - Paweł Plewako (*~1620+~1680). Next identical results have been discovered by test of Mr Feklistov from Russia, and Mr Linnichenko from Ukraine, which STR pattern of markers is close to Plewako Clan, but outside of presented phylogenetic tree. It is evidence of distant in time but close relationship.
It can be assumed that the haplotype represented in the samples DYF399X Tatur, Wisniewski, Petrov and Telencio is typical (ancestral) in this area of the Europe. Specific departure from modal haplotype may carry some information about the relationship, especially valuable if it is complementary to the analysis of the STR ​​within the same subclade.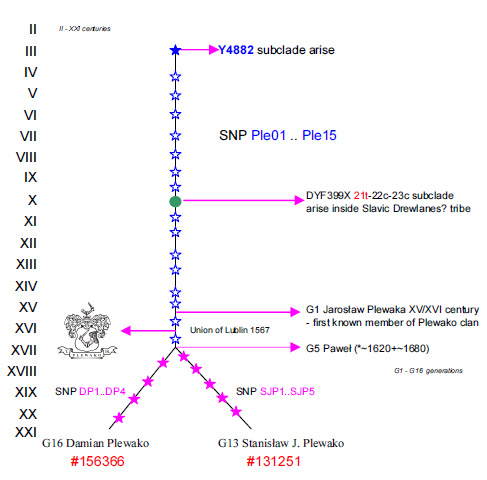 Stanislaw J. Plewako, 2012-12-14
modif. 2015-01-25