About us
All
R1b (
M343
), R1b1a2 (
M269
),
P25
etc. predicted or SNP tested people should join this haplogroup project, regardless of which subclade. This includes P312, L21, U152, U106, DF27 and Z2013.
We will help identify your subclade
and provide guidance on testing. We'll join you to a specific subclade project that is appropriate for you. This gateway service is a bridge to other projects. If you are R-M269 and are not sure what to do, join here. Please do not go to specific subclade projects first if you have not done SNP testing to confirm where you fit. People often get lost in the wrong projects and sometimes spend money for SNP tests they are negative for when they didn't need to.
This is a public project. When you join you're making surname, ancestor and DNA related results public, from which they can never be fully retracted. Do not join if you don't want to share publicly. We do not publish your full given name or contact info.
All downstream (descendant) subclade tested people are welcome here too as in depth tested people are critical as models for new R1b tested folks to compare with.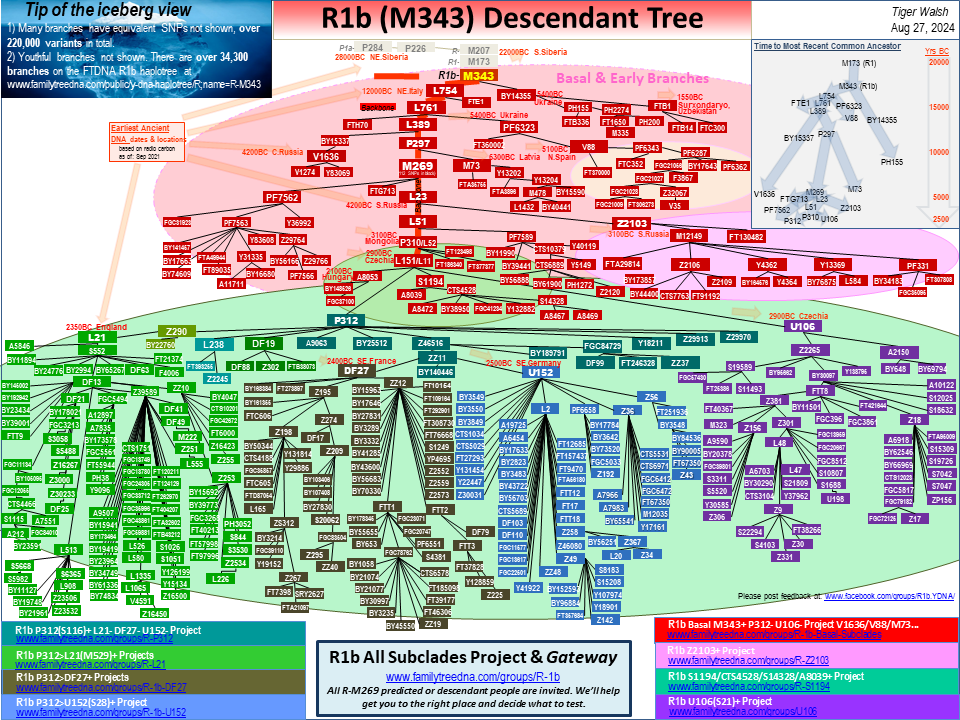 To view the R1b and all Subclades Project reports and results see the
project About/Results page (click here.)
A detailed outline version of the R1b FTDNA Haplotree is available there.
Please review key steps to take and an overview of project operations at
the About/Background (click here.)
An introduction to Y DNA testing and test types is on the
project FAQ page (click here.)
Please join the discussion, support and help forum at the
R1b Yahoo Group (click here.)
Even when we find a subclade project that fits your results,
please stay in this project
so that new testers who match you, can find you and the appropriate subclade projects.
The goals of the R1b project are to encourage deeper DNA testing to support deeper understanding of the origins and migrations of our male lineages, as R1b people, while helping individuals find family paternal lineages and ancestral origins. The project supports the concept of full genetic genealogy. This is the development of the phylogenetic tree starting from currently known family genealogies and breaking through genealogical brick walls to determine the timing and locations of the relationship of families, super-families and clans.