About us
We are now using the tail end of this webpage as a repository for miscellaneous Bruce data lists.
ActivityFeed

Now that ActivityFeed is the default landing pad, our 4 project web pages are found tucked away under the
About
tab.
Our main project page is About->Background.
Regrouping, and Phylogenetic Trees
See our Results page for the
latest trees.
Grouping is a ongoing task that we need to review whenever a new member joins.
Note that the group prefix numbers we use are just arbitrary identifiers and have no other meaning.
Bruce Population Frequency
See the bottom of the Results page for an analysis of the global Bruce surname population and it's distribution around the world.
Privacy Settings
Please ensure that your Privacy Settings allow for other project members to see your DNA results.
This is especially true for new members, because the default is currently for them to be hidden.
More detail on this blog
http://dna-explained.com/2015/07/27/family-tree-dna-new-privacy-settings/
Members are encouraged to join their appropriate Y-DNA haplogroup (or subclade) projects
Look to see if your terminal SNP is listed in the available projects.
Just for example, all our R-L21 members are encouraged to join the R-L21 project.
Some of these haplogroup projects are doing great works.
New members
We are now seeing more 'transfer' tests coming over from other testing companies, and finally a few Big-Y results.
Refer to the statistics section at the end of the main page to see a count of these.
Some transferred tests do not show up in the standard STRs reports, but their grouping can be inferred from their terminal SNPs. If this applies to you, please contact us to discuss some strategies for getting your test included in the standard STR reports.
We also have many associate members - these being non-Bruce tests and even a few non-male tests.
Some of the non-Bruce YDNA tests are potential NPEs, and some are exploring their relatedness in pre-surname times.
Coupon offers, upgrades, etc
Always check to see if any vouchers are available that may be specific to your needs.
Always purchase tests or upgrades via our project pages, to ensure you get any applicable project discounts.
Miscellaneous Bruce data lists
================================================================================
Extract from "The Must
er-roll of Angus: South African War, 1899-1902 : a Record and a Tribute"
ANGUS VOLUNTEERS WHO SERVED IN SOUTH AFRICAN WAR, 1899-1902.
A. Bruce, Trinity Cottage, near Brechin
Trooper, Fife and Forfar Contingent, Imperial Yeomanry
G. Bruce, Friockheim.
Private, 1st Active Service Section.
2nd V.B.R.H. South African medal, with clasps for Cape Colony and Wittebergen.
Made honorary Burgess of Dundee.
Geo. M. Bruce, Dundee.
Corporal, Imperial Light Infantry.
J. Bruce, of Menmuir.
Lance-Corporal, Cape Town Highlanders.
Served in Commander-in-Chief's Bodyguard, and in Kaffrarian Rifles and Johannesburg Mounted Rifles from June, 1900.
Wounded in foot at Bushmanskop, April, 1901.
ANGUS NON-COMMISSIONED OFFICERS & RANK & FILE IN BRITISH REGIMENTS AND NAVAL BRIGADES.
Alexander Hood Bruce, 27 Wilkinson Street Gardens, Cape Town, native of Menmuir.
Driver, Prince Alfred's Own Cape Artillery — 1899.
James Bruce, Dundee.
Private, 3rd Argyll and Sutherland Highlanders — 1897.
James Bruce, Dundee.
Private, 2nd Black Watch — 1893.
South African medal, with clasps for Orange Free State, and Transvaal, 1901 and 1902.
Henry M*G. Bruce, Wilkie's Lane, Dundee.
Private, 3rd Black Watch — 1894.
Robert Bruce, Dundee.
Private, 2nd Black Watch — 1899.
South African medal, with clasps for Cape Colony, Orange Free State, and Transvaal.
================================================================================
Gathered from Scotland GRO Marine Returns for Census and Deaths
================================================================================
Extract from: "Directory of Scots Banished to the American Plantations 1650-1775"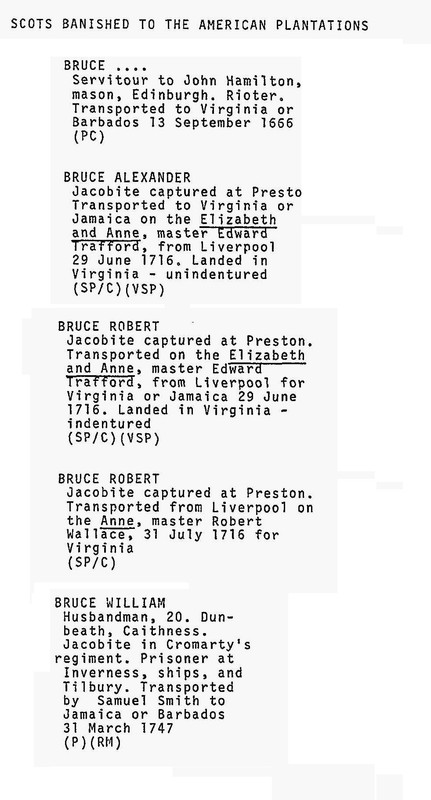 ================================================================================
Extract from "The Original Scots Colonists of Early America 1612-1783"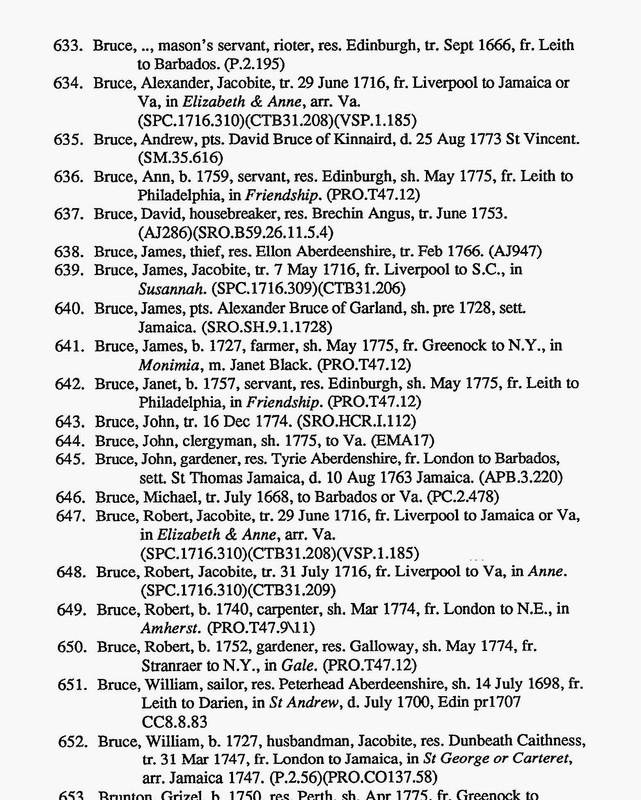 ================================================================================

Extract from "The Jacobites of Angus 1689-1746"

Andrew Bruce, born 1727, son of Patrick Bruce, Plowman in Braidston, Airlie, Soldier of Ogilvy's Regiment 1745. [OR15]

David Bruce, born 1717, son of George Bruce and Elizabeth Will, Butcher in Brechin, Soldier of Ogilvy's Regiment 1745. Prisoner in Brechin and Montrose 1746-1747 [OR15][P2.56]

George Bruce, Butcher in Brechin, Seargent Major of Ogilvy's Regiment 1745. Surrendered after Culloden [OR9]

James Bruce, Weaver in Dundee, Soldier of Ogilvy's Regiment 1745. Prisoner in Stirling and Edinburgh 1746-1747 [P2.56]

James Bruce, Butcher in Brechin, son of Seargent George Bruce, Soldier of Ogilvy's Regiment 1745. Prisoner in Inverness and Tilbury1746-1747 [OR15][P2.56]

John Bruce, Butcher in Brechin, Soldier of Ogilvy's Regiment 1745. [OR15]

================================================================================