About us
ALL R1b (M343), R1b1a2 (M269) SNP tested people who are not L151+ and not Z2013+ should join this project. The project is focused on subclades of R-BY14355 (including M335), R-M73, R-PF6323 (including V88), R-PF7562, R-PF7589, R-V1636 so please join if you are a descendant of any of these. The project includes basal (base layer) subgroups of R-M343*, R-L389*, R-L754*, R-L761*, R-P297*, R-M269* and R-L23*. This project is part of the R1b project system and maintains subgroups of people by each branch of the haplotree, aligned in sequence with it. This lets you see ancient clade mates as well as relevant matches. We can provide testing guidance, help identify your subclade and will get you to the proper subclade project if this is not the right one. This is a public project so the project reports are viewable. We don't publish your full name or contact info and do respect your privacy. If do not wish to share results or for us to join you to the correct subclade project please do not join this project.
For full haplotree click here.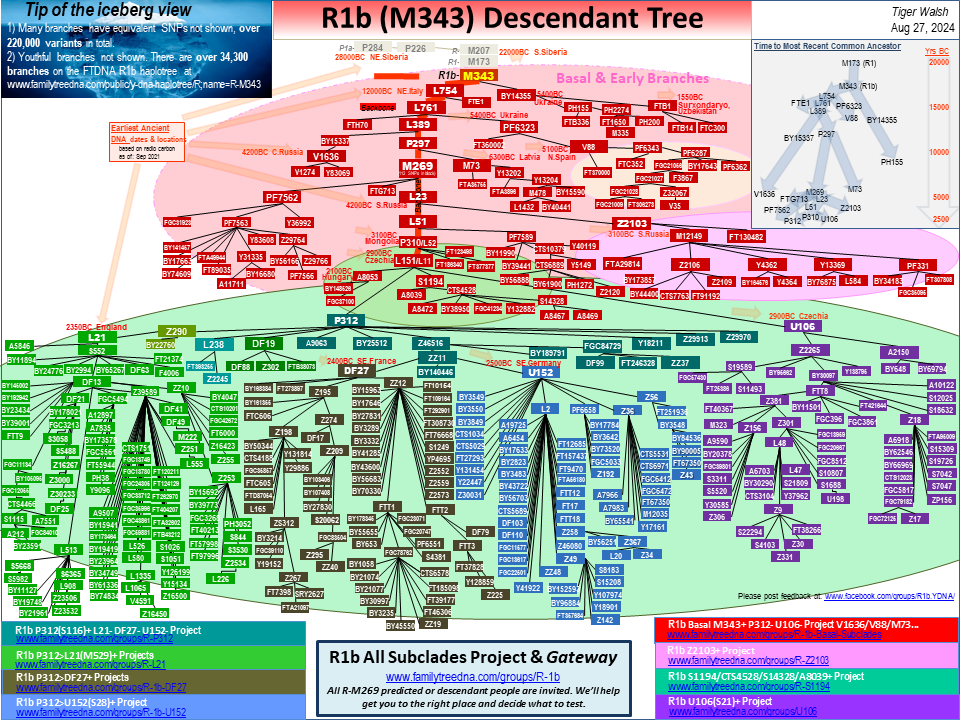 Key Steps to Take and Project Operations are on the About/Background page. The Project Goals are to encourage deeper DNA testing to support understanding of the origins of our male lineages, while helping individuals find family paternal lineages and ancestral origins. The project supports full genetic genealogy - the development of the phylogenetic tree starting from family genealogies and breaking through genealogical brick walls to determine the timing and locations of the relationship of families, super-families and clans.
For help and discussion consider the R1b.YDNA FB group (click here)
or go the project Activity Feed.