About us
Current group members are categorized in four different primary
Y Haplogroups
, which are also shown here by their more specific defining
SNP
s
R

(R-L144, R-U198, R-M222)

I

(I-M170, I-M253, I-P37.2)

J

(J-M172, J-L26)

Q

(Q-M3)
R-L144 (rs9306842)
The majority of group members are (likely) R-L144, which has dbSNP id
rs9306842
and whose associated Y Hapologroup is known at FamilyTreeDNA as
R1b1a2a1a1b4e
. (The ISOGG has recently renamed this to
R1b1a2a1a1b3a4
in light of new official SNP discoveries)
Although SNP rs9306842 (L144) has been known since 2003, L144+ is rare. In 2010, David Reynolds (with the support of Adriano Squecco) reported:
"In the
Genome Comparison Project
, we've only seen two samples out of 700+ that are L144+"
In the spring of 2012, during the development of
an SNP prediction tool
,. Robert Casey performed
an analysis of the 16 then known L144+ outcomes.

In the summer of 2012, our own surname group has confirmed
more than a dozen new L144+ results
thanks both to anonymous donors who funded a group discount for the advanced SNP test, and surname administrator James W. Green, who personally organized the details of the large group purchase.
According to ISOGG.org 2010 SNP tree,
L144
, L266, M412, M415, M478, M479, M520, M529, S175, S178 and S186 were added to the R-haplotree on 9 September 2010.
According to ISOGG.org 2013 SNP tree, ".1" was appended to L144 on 9 March 2013.
According to ISOGG.org 2014 SNP tree, L195/S354,
L144
/S175 were removed from the ISOGG SNP R-haplotree and placed in Notes on 27 November 2014.
Group Clustering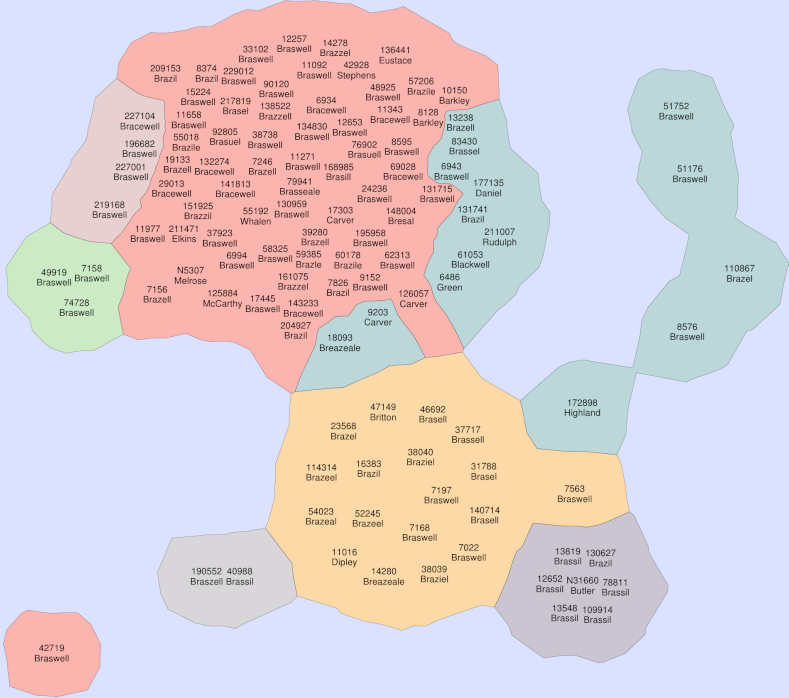 Current group member clustering based on GAP-reported genetic distance (as of July 2012)
visualization with Graphviz